The Adventures of P.C. 49
First Uploaded 2 March 2001 Updated 23 October 2001


corrections or additions??

P.C. 49 - "Incidents in the career of Police Constable Archibald Berkeley-Willoughby", so began a typical episode for the London bobbie, created by Australian Allan Stranks and played by Brian Reece in over 100 episodes on BBC radio from 1947 till 1953. The Series was produced by Vernon Harris.
The upper crust Archie was a uniformed constable, but that didn't stop him following his own theories and solving cases, often to the dismay of his superiors.
Also feaured in the series were Joy Shelton as Joan Carr, Forty Nine's girlfriend (later wife), Leslie Perrins as Detective Inspector Wilson and Eric Phillips as Detective Sergeant Wright.
The series was a mixture of drama and light comedy, something the cast seemed to thrive on, with Joan proving to be as much a bane in the lives of Wright & Wilson as P.C. 49 himself.
The stories also proved very popular as a cartoon and appeared in The Eagle from 1950 - 57.
Two films based on the series were released in 1949 & 51.
---
The series featured several popular catch phrases, P.C. 49's exclamation "Oh my Sunday helmet" & Sergeant Wright's "out you go Forty Nine" after P.C. 49 has said something exasperating to Inspector Wilson, being two.

The episodes had individual titles, and each episode was self-contained.
The Case of the... Burning Passion, Homing Pigeon, Untarnished Copper, Silver Slipper, Record Catch, Lovely Liar, Fallen Idol, Haunting Refrain, Green Golliwog, Copper's Coffin, Indian Rope Trick, Heart of Gold, Sticky Wicket, Wrong Romeo, Eleventh Hour, Second Murder, First Cuckoo, Third Single, Twisted Tiara, Last Bus, Morning After, Fourth Alibi, Muderous Mouse, Sixth Sense, Treble Chance, Deadly Weed, being some of the transcribed ones.
Top
---

The series was made available to overseas broadcasters by the BBC Transcription Service.
2 articles from the New Zealand Listener about contemporary broadcasts.
May 18 1951 issue.
Adventure on the Beat.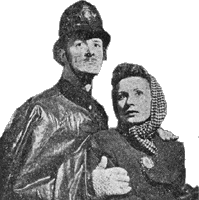 When an Anglo-Indian officer of the old school, who owned a priceless ruby, was stabbed to death in his floodlit grounds, an inspector, a sergeant and a constable of the police force were a matter of yards away, and the constable saw an Indian shinning up a rope and disappearing into thin air. Happily for the course of justice the constable (who was strictly sober at the time) was Police Constable Archibald Berkeley-Willoughby. In his usual unorthodox manner he not only proved how the dead man was murdered, but also how Indian's can shin up ropes and disappear into thin air.
<= Brian Reece and Joy Shelton as Archie and Joan.
The Case of the Indian Rope Trick is one episode of a new series The Adventures of P.C. 49, which will begin from 4YZ at 7:30pm on Monday, May 21, and later be heard from all other YZ and YA stations.
P.C. 49 became a very popular character in the BBC Light Programme. He has his own way of going about the solution of crimes, and is something of a thorn in the flesh of his superior officers. Having done the brain work, he not infrequently finds himself difficulties too great to manage single-handed, and has to call for assistance. Always close at hand to help is his fiancee Joan Carr, and as listeners will discover, it takes more than a short tempered Chief-Inspector to stop her from concerning herself with matters that in the official view, she should leave alone.
Brian Reece who plays the part of P.C. 49 in the comedy-thriller series, has done a good deal of broadcasting since the war, as well as playing the comedy lead in one of London's outstandingly successful musical shows Bless the Bride.
Joy Shelton who plays Joan Carr was given a microphone test by the BBC while with a touring show. After that she took part in Front Line Family. Since the war she has acted for stage and films as well as radio. The Adventures of P.C. 49, begins with The Case of the Homing Pigeon, but a fatal finger, a silver slipper, a blushing bride, a copper's coffin, a red hot cert, a black daffodil - and even a morning after (two black eyes for Chief-Inspector Wilson and a broken dental plate for Sergeant Wright, all by the hand of P.C. 49), are some features of the cases with which Archibald and Joan grapple in later weeks.

Top
---
October 24 1952 issue.
P.C. 49 and The White Mouse Mystery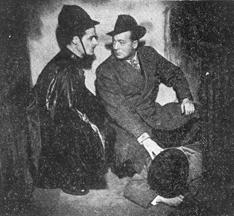 <= Brian Reece and Leslie Perrins as P.C. 49 and Detective Inspector Wilson.
Snorky Palmer was an unpleasant old man, and when he was found dead in his gas-filled rooom the police put it down to his stumbling against the gas pipe and and cracking it while under the influence of red biddy. Then Police Constable Archibald Berkeley-Willoughby - P.C. 49 - found a dead mouse, a white one, in the room and in Forty-Nine's opinion Snorky was one of the last persons on earth to keep a white mouse, or any other kind of pet for that matter. That discovery and Forty-Nine's deductions lead him to solve a mystery that had been bothering his superiors for days. How he went about it listeners will discover from The Case of the Murderous Mouse, which starts a new series of The Adventures of P.C. 49 from 2YA at 7:30pm on Thursday October 30. They will be heard later from other stations. A football pools coupon which Dai Evans was filling in when he met his death in the little room behind his shop, the sounds of a flute from an apparently deserted garden at two o'clock in the morning, the last bus home on a winter's night with a man downstairs with a leg in plaster and a man upstairs with a knife sticking out of his neck - these are some of the ingredients in later adventures of P.C. 49. Listeners will find that Forty-Nine has not lost his knack of being at the right place at the right time and that the intuition of his financee, Joan Carr, is not only as strong as ever but as annoying as it has always been to people like police sergeants and inspectors. In The Adventures of P.C. 49, which was first broadcast in the BBC Light Programme, Brian Reece plays P.C. 49, Joy Shelton is Joan, Leslie Perrins is Inspector Wilson, and Eric Phillips is Sergeant Wright. The stories are written by Alan Stranks.
Top
---

Films produced by Hammer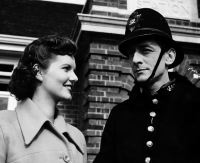 `The Adventures of PC 49' (UK) (1949) 67 minutes.
Hugh Latimer (Archibald Berkeley-Willoughby), Patricia Cutts (Joan), Eric Phillips (Sgt. Wright), Arthur Brander (Insp. Wilson), John Penrose (Barney), Annette Simmonds (Carrots), Pat Nye (Ma Benson), Martin Benson (Skinny).

Truck Thieves are caught by an undercover Police Officer.
Producer - Anthony Hinds
Directed by Godfrey Grayson
Writers - Alan Stranks & Vernon Harris (based on the radio series by Alan Stranks)

Top
---
`A Case for PC 49' (UK) (1951) 80 minutes.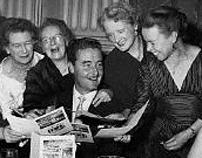 Brian Reece
(Archibald Berkeley-Willoughby)
, Joy Shelton
(Joan)
, Campbell Singer
(Sgt. Wright)
, Gordon McLeod
(Insp. Wilson),
Christine Norden
(Della Dainton),
Leslie Bradley
(Victor Palatine),
Jack Stewart
(Cutter)
, Michael Balfour
(Chubby Price).
PC 49 grapples with a beautiful artists model in a case involving the murder of a millionaire.
Notable for the presence of radio stars Reece & Shelton, unlike the first film.
Producer - Anthony Hinds
Directed by Francis Searle
Writers - Alan Stranks & Vernon Harris (based on the radio series by Alan Stranks)
Top
---

Brian Reece (1913 - 1962)
Brian Reece was a popular comic actor who had considerable success in West End shows. He began his acting career in repertory companies, before joining the Army. While in the Service he appeared at a large number of troop concerts and then in broadcasts with Kenneth Horne. He started working for the BBC in 1946, and when P.C. 49 started in 1947, he quickly became a popular radio personality. He also appeared in other radio shows and many theatre productions.
Pictured here in the radio variety programme:
Arthur's Inn, around 1952.

<= Reece & Arthur Askey Reece & Sally Ann Howes =>
---
Episodes?
112 episodes were made, although the The Radio Detectives episode broadcast on BBC Radio 4 in 1999 states that only 2 episodes have survived within the BBC. Excerpts from both were used in the documentary, both episodes from 1950 - The Case of the Black Diamonds, and The Case of the Perfect Fiddle. If anyone has any other episodes, I would certainly like to know.
Back to Top
---
**Special Thanks to Stuart Monk for providing the log.**

REFERENCES:
"'The Golden Age of Radio - An Illustrated Companion" by Denis Gifford published by the Batsford Ltd. 1985.
"The Motion Picture Guide - 1927 - 1983" by Jay Robert Nash and Stanley Ralph Ross Published by Cinebooks Inc 1986.
The Internet Movie Database